Working Together to Reduce Risk for Access to Quality Foods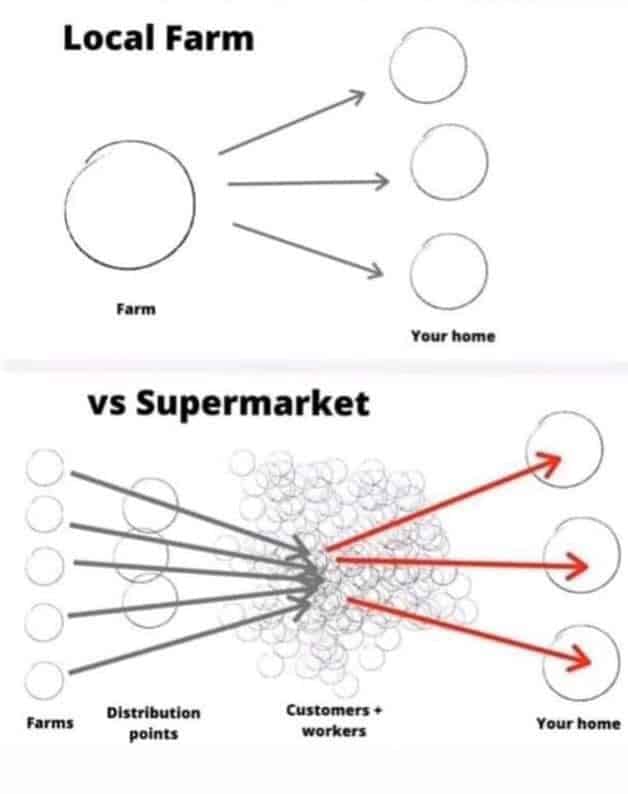 This image offers a visual representation of how many hands have touched your food by the time it reaches your home, indicated by the number of circles. Above shows the direct from farmer to consumer model. Below shows the supermarket model–yikes! We want to help you be as close to the top model as possible with all your sourcing needs.
Sourcing For You, Even Beyond What We Can Grow
UPDATE: We now carry this offering in our e-store! Thank you to all the positive response we received from this survey.
As part of our ongoing COVID-19 response, we are coordinating shipments via a small, sustainably-minded Minnesota company that supplies co-op grocery stories in order to be able to offer a wider variety of critical foods during this time of shortage. We can access these right from the delivery truck, so no standing in line at the grocery store or living at the mercy of the many hands who have unpacked, displayed, rearranged, and touched your food. We can bulk order cases and then break them down by the unit or the pound and have them available for you! During this unprecedented time, this feels like an especially needed service to our friends at the farm.
However, WE DO NOT WANT TO BE WASTFUL of any of the foods we order. Therefore, WE NEED TO HEAR FROM YOU about what types and quantities of Organic fruits and veggies you would want to purchase through us. This will help us put together an appropriate order. We will then be in touch with you once the shipment arrives for purchasing and pickup options. These foods are not for shipments, though they could be coordinated with an upcoming delivery route.
Please fill out the form below to express your interest in this service, and let us know which items and quantities would be desirable.