Our Vision: A Healthy Planet and All Its Inhabitants
Everyone thrives when they are healthy–humans, animals, plants, soil, ecosystems. Our lived purpose is to bring our hearts, hands, time, and experience to the work of thriving together, whether this is through nurturing biodynamic and sustainable practices on our farm or how we impact our community and world. It can be as small as the personal level or as expansive as the global experience. This vision includes you! Each day gives us new opportunities to bring positive impact to a hurting world–making a difference right here, right now.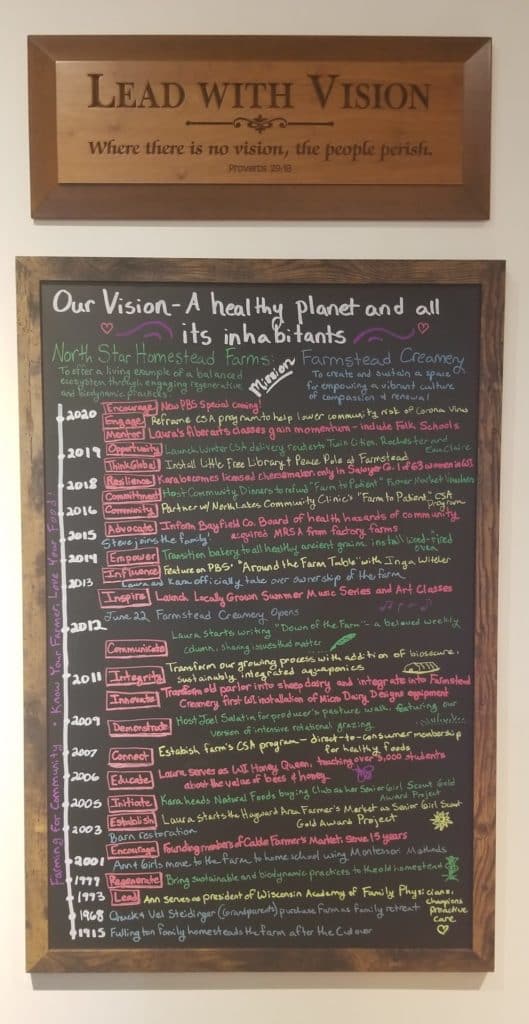 Leading with Vision: A Timeline
2020, Encourage: New PBS Special coming!
2020, Engage: Reframe CSA program to help lower community risk of Corona Virus.
2020, Mentor: Laura's fiber arts classes gain momentum–include Folk Schools
2019, Opportunity: Launch winter CSA delivery routes to Twin Cities, Rochester, and Eau Claire
2019 Think Global: Install Little Free Library and Peace Pole at Farmstead
2018, Resilience: Kara becomes licensed cheesemaker, only one in Sawyer County, 1 of 63 women in WI
2018, Commitment: Host Community dinners to refund "Farm-to-Patient" farmer market vouchers
2016, Community: Partner with NorthLakes Community Clinic's "Farm -to-Patient" CSA Program
2015, Advocate: Inform Bayfield County Board of health hazards of community acquired MRSA from factory farms.
Steve joins the family!
2014, Empower: Transition bakery to all healthy ancient grains, install wood-fired oven
2014, Inspire: Launch Locally Grown Summer Music Series and art classes
2012, June 22, Farmstead Creamery opens
2012, Communicate: Laura starts writing "Down on the farm," a beloved weekly column sharing issues that matter
2011, Integrity: Transform our growing process with addition of biosecure, sustainably integrated aquaponics
2011, Innovation: Transform old parlor into sheep dairy and integrate into Farmstead Creamery first WI installation of Micro Dairy Designs equipment.
2009, Demonstrate: Host Joel Salatin for producer's pasture walk, featuring our version of intensive rotational grazing.
2007, Connect: Establish farm's CSA program–direct-to-consumer relationship for healthy foods
2006, Educate: Laura serves as WI Honey Queen, teaching over 3,000 students about the value of bees and honey.
2005, Initiate: Kara heads Natural Foods Buying Club as her Senior Girl Scout Gold Award Project
2003, Establish: Laura starts the Hayward Area Farmer's Market as Senior Girl Scout Gold Award Project
2001, Barn Restoration
2001, Encourage: Founding members of Cable Farmer's Market, serve 15 years
2001, Ann and girls move to the farm to homeschool using Montessori methods
1999, Regenerate: Bring sustainable and biodynamic practices to the old homestead
1993, Lead: Ann serves as president of the WI Academy of Family Physicians, champions proactive care
1968, Chuck and Vel Steidinger (grandparents) purchase the farm as a family retreat
1915, Fullington family homesteads the farm after the Cutover
North Star Homestead Farms
Our Mission: To offer a living example of a balanced ecosystem through engaged regenerative and biodynamic practices.
From integrated aquaponics to intensive rotational grazing with multiple species, permaculture orchards and pastures (including sylvopasture), it's like orchestrating a symphony of interlinked parts–each serving to enrich the soils, increase diversity, and manage pests in an integrated way. Surrounded by the Chequamegon National Forest, our farm is also 60% woodland and wetlands, providing ample home for wildlife of all types. Our predator control focuses on psychological barriers such as guard donkeys, electric fencing, and open spaces between perimeter fences and wooded areas.
Each system also has its own integrated cycles that feed each other. For instance, vegetable scraps from the aquaponics greenhouse help feed our heritage Kunekune pigs, as do the remainders of the tilapia fish once they have been filleted. The nutrient-rich rotated paddocks from the pigs is then utilized to grow potatoes and squashes. Unripened or damaged squashes become winter food for the pigs and chickens. The composted winter manure from the chickens revitalized the soil in the garden, while their pasturing in the summer brings fresh vitality to the field after the sheep have grazed. The chickens, with their scratching and pecking, break up parasite cycles in the pasture, keeping the sheep healthier as well. Everything is connected on the farm in as close to a zero-waste process as possible.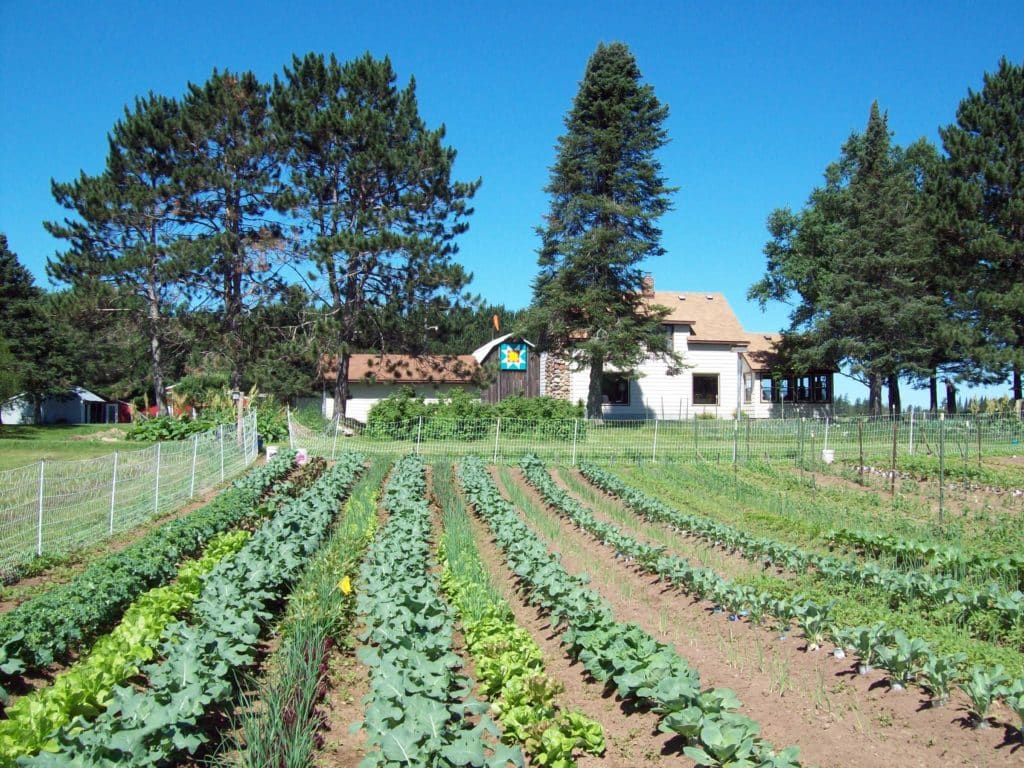 Farmstead Creamery
Our Mission: To create and sustain a space for empowering a vibrant culture of compassion and renewal.
Tucked on our farm on a former small hay field, Farmstead Creamery is a gem not only for accessing local foods but also for arts, culture, education, and enjoying the environment. While COVID-19 has drastically changed the way we operate currently, we are still dedicated to our maxim to inspire, empower, and renew. Please stay in touch via our Facebook page, newsletters, and other announcements about the future of Farmstead Creamery as a community space. We do currently offer pickup options for orders via our e-store. Thank you for your patience and understanding through this process.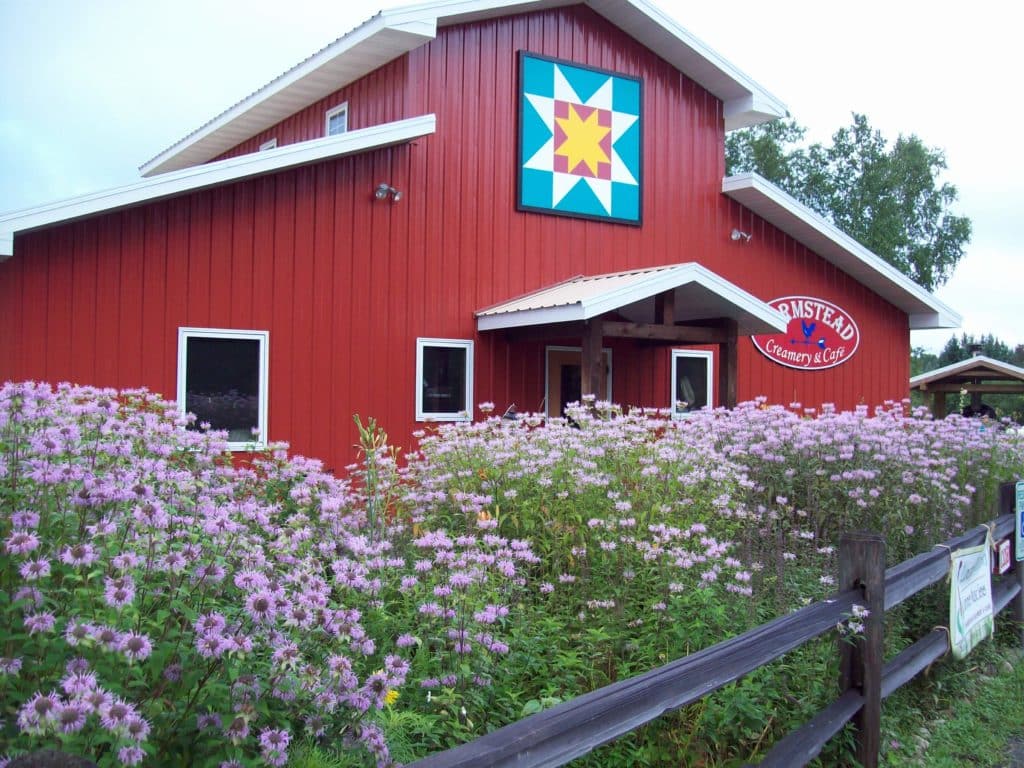 Our Ethos: 12 Defining Principles
Being Present—Living in the beauty of this moment.  The present is a true gift and all we have.
Tending Relationships—We live in an interconnected web.  Celebrating and building those connections makes life more beautiful.
Embracing Purpose—Know why we are here.  Dedicating hands and hearts to making a difference.
Building Community—Creating the environment and build engagements points for meaningful community.
To Inspire and Create—Creative expression is for everyone.  Share a story, make something new, learn, explore!
Engaging with the Process—Building and refining systems that renew, sustain, and open opportunities.
Finding Renewal—Regenerating the land, enriching the people, creating a lifestyle with fulfillment.
Nurturing Integrity—Providing clean, wholesome foods, direct from the source.  A source with experience you can trust.
Fostering Balance—Our dynamic, sustainably-focused farm is an orchestra of species in harmony with each other and the precious environment.
Choosing Stewardship—We dedicate to serving the land and animals in our care, every day, all year.
Empowering Positive Change—Through the seeds of empowerment come the fruits of actualization.
Leading with Vision—Being the change.  Living the dream.  Join us.